We recently had an enquiry about a lawn in desperate need of attention. Our Southport/Formby/Crosby lawncare representative Rob, went to investigate.

The owners of the lawn was desperate to get their lawn back after the harsh summer we've had. As you can see from the photo it ended up a real mess.
One quick call to Lancashire Lawncare and a few treatments later the lawn is well and truly on its well to full recovery. It was quickly determined that the lawn was in need of aeration to relieve compaction and also needed a weed killer and lawn fertiliser applying in the correct dosage. This obviously took a little while to recover still and needed a little reseeding in the barest of patches but with the professional lawncare attention it needed it now looks much, much better. Due to the damage done by the drought and the previous misapplication of chemicals the lawn the lawn took a real hammering, and has taken a little time and attention to get back. However, our customer is delighted with the result after only two applications. By spring next year the lawn should be 100% recovered. Regular treatments from Lancashire Lawncare will prevent this from happening again.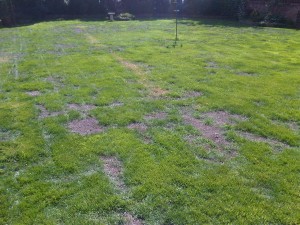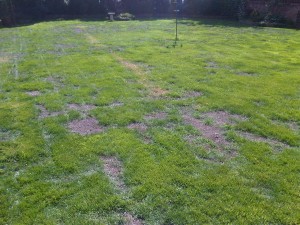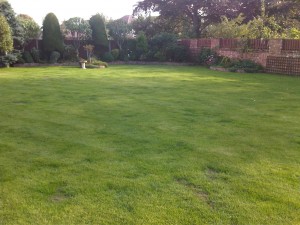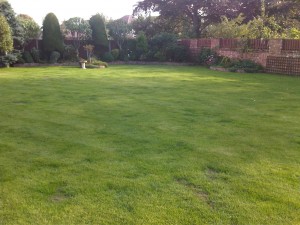 Does your lawn look like this? Is it tired, weed ridden, covered in moss?
Contact us today and see what amazing results we can give to your lawn.
Lancashire Lawncare is a well established family run business that prides itself on the professional and yet personal service it offers. Whether in Crosby, Formby, Southport, Preston, Fylde or roundabouts we will be happy to give you a free no obligation quote.
Crosby Lawn Care, Formby Lawn Care, Southport Lawncare, Preston Lawn Care, Fylde Lawn Care all come under Lancashire Lawncare. Our name and reputation in the North West is growing as we continue to service all the above areas and many more. Our family lawn care business builds its success on honest, regular and reliable lawn care. Professional and yet personal service is what often attracts our customers and the fact that you are able to deal with a regular person who lives locally.
enquiries@lancashire lawncare.co.uk