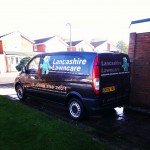 The ever increasingly popular need to treat lawns has led to an upsurge in the North West areas that we cover. Currently we treat lawns from Crosby through to the Lytham St. Annes and all areas in between and around. We have 2 bases, one in Formby and one in Penwortham. From these we provide our localised services in and around the area we live. This helps to engender trust and confidence in our customers as the are dealing with local lawn care specialists.
We're always delighted when we hear those words "can you come and treat my lawn" as it means we must be doing something right. To treat lawns you need the correct products and the correct tools. Time and again we fix lawns that have had either an overdose of fertiliser or the wrong weed killer or even off the shelf fertiliser which has heralded very little results. When we treat lawns we use professional equipment which calibrates the amount of product that goes onto the lawn. For example when treating lawns with lawn fertiliser we use either a hand spreader or a rotary spreader both correctly calibrated so as to ensure an even and correct distribution of lawn fertiliser. The same is true of our knapsacks which we use to treat the lawns for weeds or moss. The concentration of the solution is critical to avoid scorching or having a understrength soultion.
So what would it cost to treat my lawn?
Our prices start from £13 a quarter for a small lawn. For this you receive 4 treatments throughout the year
Spring Weed and Feed
Summer Weed and Feed
Autumn Weed and Feed
Winter Moss Control
*We offer extra treatments to lawns especially in the Southport and Fylde area where the sandy soils cause some problems. Also we offer extra moss control at the beginning of the year to help slow down moss growth which has been particularly bad this year.
These keep on top of weeds and moss and also promote healthy root structure, growth and colouring. So when we treat lawns we really do give you a service you'll be happy to recommend. We look forward to your call.